Agonoize - 666 Degrees Below - Limited Edition EP - Out 26.02.2021
There will be blood on the dance floor again!
Agonoize return with their new EP "666 Degrees Below", leading the way to the new album "Revelation Six Six Sick".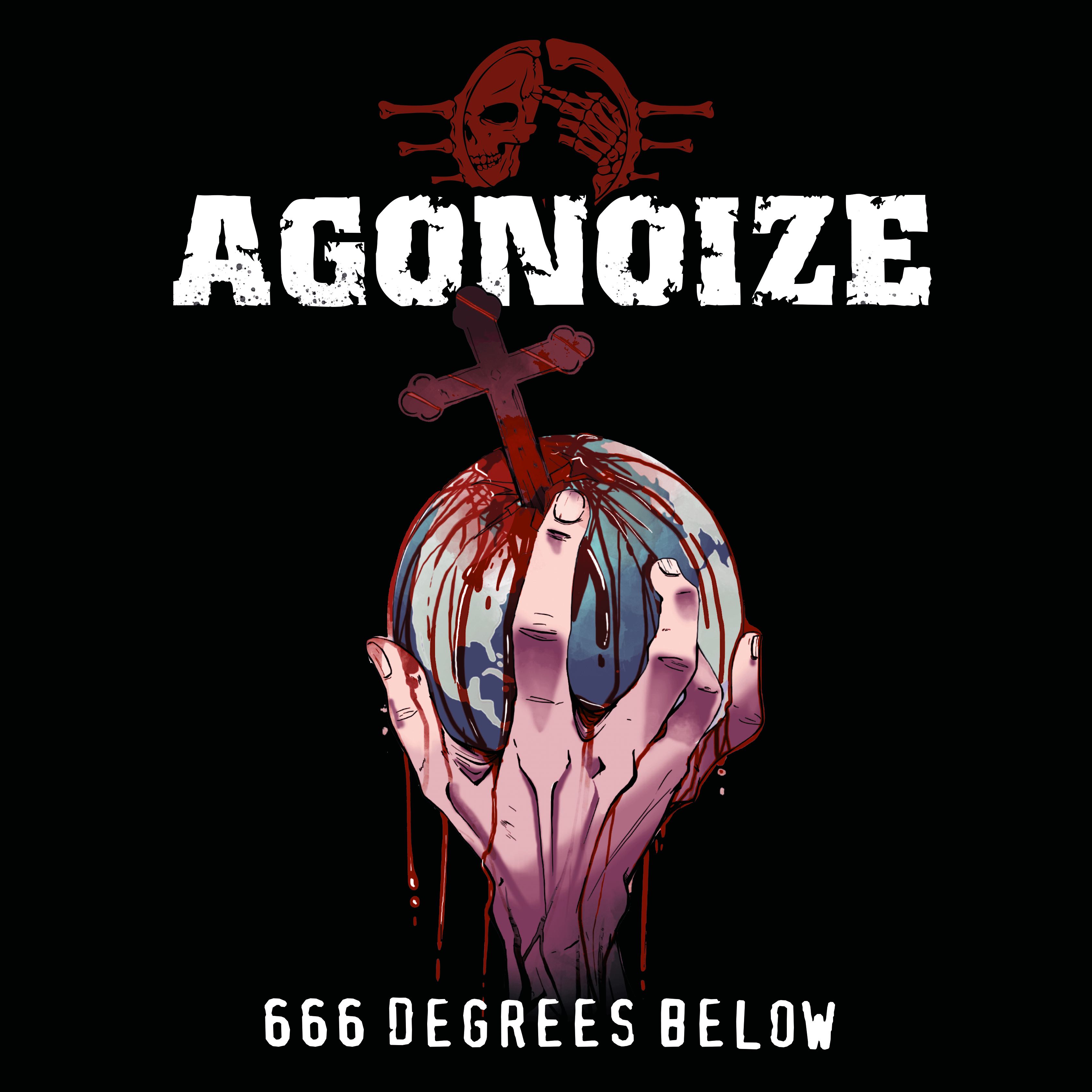 Tracklist:
1.666 Degrees Below
2.Angst Ist Macht
3.Faux Amis (Eisfabrik Remix)
4.Komakind (Klubkind Mix)
5.Dein Gott (Nachtmahr Remix)
6.Komakind (Nachtblut Remix)
---
Funker Vogt - New album - Out 29.01.2021
Funker Vogt return with their new 2CD album "Element 115". Stronger than ever before!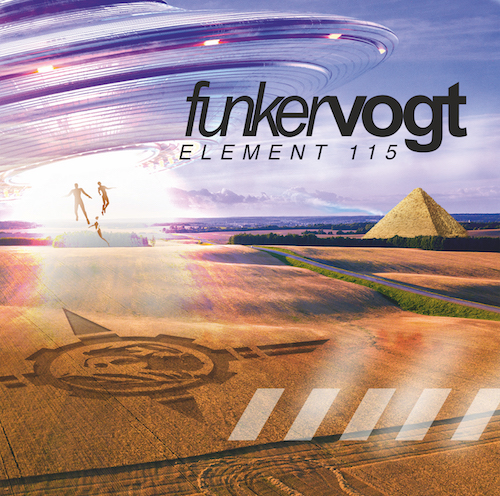 Tracklist:
1. What If I'M Wrong?
2. Olympus
3. Abducted
4. A. I.
5. Gaia
6. To The Sun
7. Invasion
8. The Grey
9. Lost
10.The Wanting
11.I Want To Believe
12.Lost Kingdom
13.A Step Into The Dark
14.The Fallen Race - Bonus Edit
15.To The Sun - Bonus Edit
16.God With Us
17.Gate Of The Gods
18.How To Kill A God?
19.Invasion - Bonus Edit
20.We Believe – Bonus Edit
---
NOVAkILL - New album & single
Enjoy the official lyric video for the lead single "Underground", taken from the upcoming album "Iconoclast". Stream or download "Underground" in all relevant stores now:
The new album "Iconoclast" is available on 04.09.2020.
---
Eisfabrik - Automatisierung in der Eisfabrik - Out 21.08.2020
On 21.08.2020 Eisfabrik release their new 10-Track Mini-Album "Automatisierung in der Eisfabrik".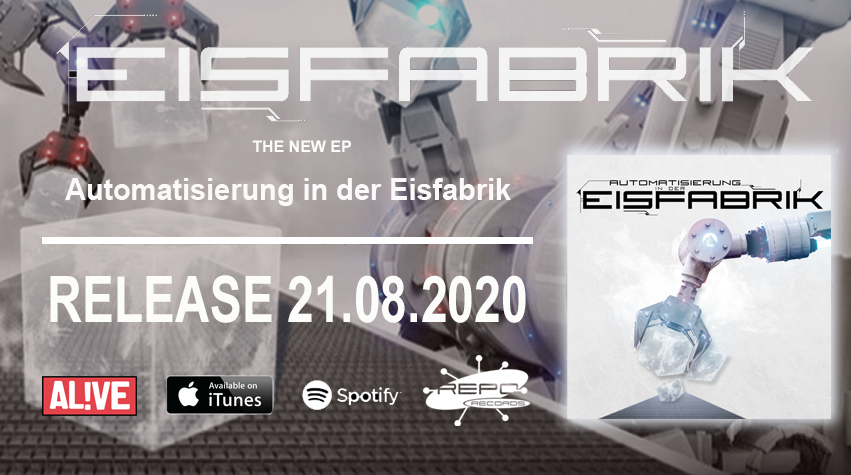 Tracklist:
01) Bleeding Hearts
02) Sorrow Face
03) We Don't Care (Acoustic Guitar Mix)
04) Your Dream
05) Friends (Petone-Remix)
06) Grim Reaper (No Crop Without Seeds Mix)
07) Cold as Ice
08) We Don't Care (ES23-Remix)
09) A Better Way
10) Free 2020
---
Eisfabrik vs. Schattenmann - Out 23.07.2020
In times of lockdown and concert bans, Eisfabrik and Schattenmann have come together once again for a remix-battle.
Pre-order your download or stream it in various shops here:
https://reporecords.lnk.to/opposites_WE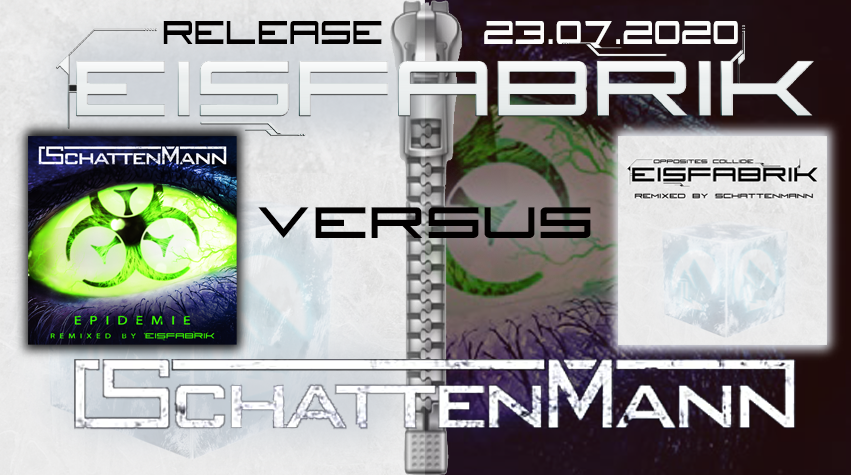 ---
Funker Vogt - Conspiracy - Out 27.03.2020
Tracklist:
1. The fallen race
2. CE-3 (First contact)
3. We believe
4. A new dawn
5. Date of expiration (Neumix)
6. CE-3 (Intruder)
7. The fallen race (Conquest)
---
Agonoize - A Vampire Tale - Out 07.02.2020
01 A Vampire Tale (Blutdurst)
02 Breathe
03 I Just Want To Live
04 The Fall
05 Requiem
06 Bullet (Intent:Outtake Remix)
07 A Vampire Tale (Vanguard Remix)
08 Weltenschmerz (Diverje Remix) 
---
Eisfabrik - Kryothermalmusik aus der Eisfabrik - Out 24.01.2020
Eisfabrik is similar to Area 51: You know it exists. We can see and hear it, but do we know what's going on inside it?
One thing we can confirm is that on 24.01.2020 Eisfabrik will deliver their new album "Kryothermalmusik aus der Eisfabrik"!
01. Deeper And Deeper
02. No Matter
03. We Don't Care
04. Grim Reaper
05. Lonely Like A Wolf
06. Too Late
07. Greetings From Far Away
08. Journey Of Oblivion
09. And Nothing Turns (Extended)
10. Back Home
11. Opposites Collide
12. White Sheet (Kryothermalversion)
---
Eisfabrik - Rotationsausfall in der Eisfabrik - Out 22.11.2019
After a two year break Eisfabrik are back with an EP announcing the upcoming album "Kryothermalmusik aus der Eisfabrik". Two brand-new songs and various remix versions with a total playing time of almost 40 minutes indicate where the journey is heading: Melancholy with a high catchy tune factor mark the direction of this release.
1.And Nothing Turns
2.And Nothing Turns (Club Version)
3.White Sheet
4.And Nothing Turns (Covenant Version)
5.And Nothing Turns (Schattenmann Version)
6.White Sheet (Frozen Plasma Version)
7.And Nothing Turns (Beyond Obsession Version)
8.And Nothing Turns (Robotiko Rejekto Version)
9.And Nothing Turns (Rob Dust Version)
---
Agonoize - new Album - Out now!
Finally here it is - the new Agonoize album "Midget Vampire Porn"
Tracklist:
Disk: 1
01. APEIROPHOBIA
02. WELTENSCHMERZ
03. BLUTGRUPPE JESUS (-)
04. SCHMERZPERVERS 2.0
05. KISS ME KILL ME
06. POPULAR
07. TEUFELSKIND
08. A VAMPIRE TALE
09. BULLET
10. ANTIHELD
11. HOMME FATALE
12. NO PLACE FOR STRANGERS
13. TRUE BLOOD
Disk: 2
01. INFERNO
02. KINGDOM OF DARKNESS
03. 1,2,3
04. GLEICHSCHRITT
05. ALONE IN THE DARK
---
Agonoize - new EP - Out now!
After almost five years the godfathers and founders of "Hellektro" finally return with a brand new EP and album:
27.09.2019 - Blutgruppe Jesus (-) / Schmerzpervers 2.0 (EP)
Pre-order the new album here: 
25.10.2019 - Midget Vampire Porn (Album / DCD)
Tracklist:  
1. Blutgruppe Jesus (-) (Absolution)
2. Schmerzpervers 2.0 (Verlängert)
3. Bleed For Me
4. A Vampire Tale (Funker Vogt Rework)
5. Schmerzpervers 2.0 (Centhron Remix) 
---